Dear Customer, Dogal Strings closes for the summer holidays.
All orders effected from July 30th will be managed and shipped at our reopening (after August 24th 2020).
We wish you all a nice summer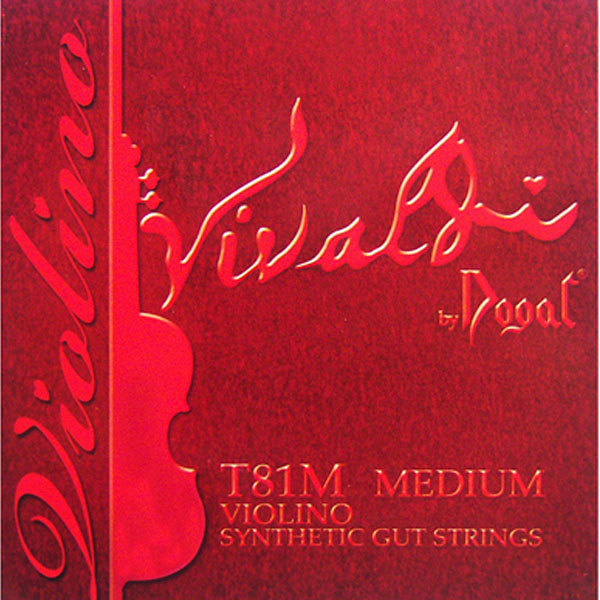 "Vivaldi" are the Dogal strings for professional Violinists, entirely produced by hand in our Venetian workshop. An excellent response and perfect fifths are the advantages offered by use of a multi-filament synthetic core with a high percentage of carbon fibre, which also brings the advantage of reduced soundboard stress. Dogal Vivaldi strings are available in Light, Medium and Strong Tensions. Re-D and Sol-G strings are in Aluminium for the series T81 while they are in Sterling Silver for the series T83.
Material
Alluminio/Argemto
T814L

SOL violino Vivaldi fasciato in argento - light

T812M

LA vl VIVALDI Medium Tensione pallino aluminium

T812S

LA vl VIVALDI strong Tensione pallino aluminium

T813L

RE violino Vivaldi fasciato in alluminio - light

T813M

RE vl VIVALDI Medium Tensione pallino aluminium

T813SL

RE violino Vivaldi fasciato in argento puro - Light

T813SS

RE vl VIVALDI Strong Tension pallino Sterling Silver

T83S

Muta vl VIVALDI Strong Tensione Synthetic Gut re in argento

T814M

SOL vl VIVALDI Medium Tensione media silver

T814S

SOL vl VIVALDI Strong Tension media silver

T81S

Muta VL Vivaldi Strong Tensione pallino Synthetic Gut

T813SM

RE vl VIVALDI Medium Tension pallino Sterling Silver

T83L

Muta vl VIVALDI Light Tensione Synthetic Gut re in argento

T811L

MI Vivaldi acciaio inoss. pallino Synthetic Gut - Light

T81M

Muta vl VIVALDI Media Tensione pallino Synthetic Gut

T81L

Muta vl VIVALDI Light Tensione pallino Synthetic Gut

T812L

LA violino Vivaldi fasciato in alluminio - Light

T811S

MI vl VIVALDI Tensione Strong steel-plain ball

T811M

MI vl VIVALDI Media Tensione steel-plain ball

T83M

Muta vl VIVALDI Media Tensione Synthetic Gut re in argento

T813S

RE-D Medium Pure-grade Silver Wound Synthetic Gut

T81B

Set 1/2 Strong Tension Synthetic Gut Stee-plain Ball

T81C

Set 1/2 Strong Tension Synthetic Gut Aluminium wound Ball

T83F

Set 4/4 Forte Tension Silver steel plain ball
Size Chart

Note

Diameter

Tension

E

0.0100

16.220

B

0.0100

16.220

G

0.0100

16.220

D

0.0100

16.220

A

0.0100

16.220

E

0.0100

16.220