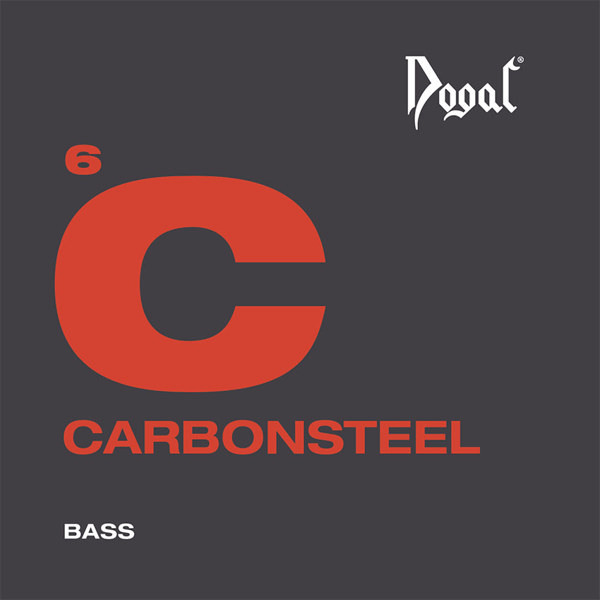 These strings, realized with the exclusive carbon alloy around a round core, ensure a very high sound volume and a longer sustain. Also, thanks to their flexibility, these strings are soft therefore easy to play even without touching the keyboard. In this way we can offer strings with thinner diameters but without reducing the sonority. Our tuning 038-086 has the same sound as a 040-100 produced with traditional materials. These strings were designed and created for those who prefer Rock and all the sounds that need a warm sound. Available also for instruments with 5, 6 and 7 strings and Steinberg system.
Dear customer,
Dogal Strings closes for the summer holidays.
All orders effected from July 23rd will be shipped at our reopening (after August 24th, 2021).
We will do our best in order grant the shipping prior to our holidays of all the orders received within July 22nd 2021.
We wish you all a nice summer.

Dear user, on 34" scale basses with strings on the bridge choose 34" scale, on basses with string-through body choose 35" scale.
CS90090

MI-E bass guitar string 090 Carbonsteel

CS90S092

MI-E bass guitar string Steinberger 092 Carbonsteel

CS90135

SI-B bass guitar 135 Carbonsteel

CS90070D

RE-D bass guitar string 070 Carbonsteel

CS90070A

LA-A Bass Guitar string 070 Carbonsteel

CS90020

FA-F 020 Carbonsteel

CS90026

FA-F 026 Carbonsteel

CS90030C

DO-C 030 Carbonsteel

CS90030G

SOL-G 030 Carbonsteel

CS90035C

DO-C 035 Carbonsteel

CS90035G

SOL-G 035 Carbonsteel

CS90038

SOL-G 038 Carbonsteel

CS90040

SOL-G 040 Carbonsteel

CS90045

SOL-G 045 Carbonsteel

CS90050

RE-D 050 Carbonsteel

CS90056

RE-D 056 Carbonsteel

CS90060

RE-D 060 Carbonsteel

CS90065A

LA-A 065 Carbonsteel

CS90065D

RE-D 065 Carbonsteel

CS90075

LA-A 075 Carbonsteel

CS90080

LA-A 080 Carbonsteel

CS90085

MI-E 085 Carbonsteel

CS90086

MI-E 086 Carbonsteel

CS90100

MI-E 100 Carbonsteel

CS90105

MI-E 105 Carbonsteel

CS90110

SI-B 110 Carbonsteel

CS90115

SI-B 115 Carbonsteel

CS90125

SI-B 125 Carbonsteel

CS90130

SI-B 130 Carbonsteel

CS905038

Set 5 strings 038 056 070 086 110

CS906030

Set 6 strings 030 038 056 070 086 110

CS90A

Set 038 056 070 086

CS90B

Set 040 060 075 100

CS90B5020

Set 5 strings 020 040 060 075 100

CS90B5030

Set 5 strings 030 040 060 075 100

CS90B5040

Set 5 strings 040 060 075 100 125

CS90B6030

Set 6 strings 030 040 060 075 100 125

CS90C

Set 045 065 085 105

CS90C5035

Set 5 strings 035 045 065 080 105

CS90C5045

Set 5 strings 045 065 085 105 130

CS90C6035

Set 6 strings 035 045 065 085 105 130

CS90D

Set 040 065 085 100

CS90E

Set 050 070 090 110

CS90F

Set 060 075 105 135

CS90S038

SOL-G Steinberger string 038 Carbonsteel
Size Chart

Note

Diameter

Tension

E

0.0100

16.220

B

0.0100

16.220

G

0.0100

16.220

D

0.0100

16.220

A

0.0100

16.220

E

0.0100

16.220