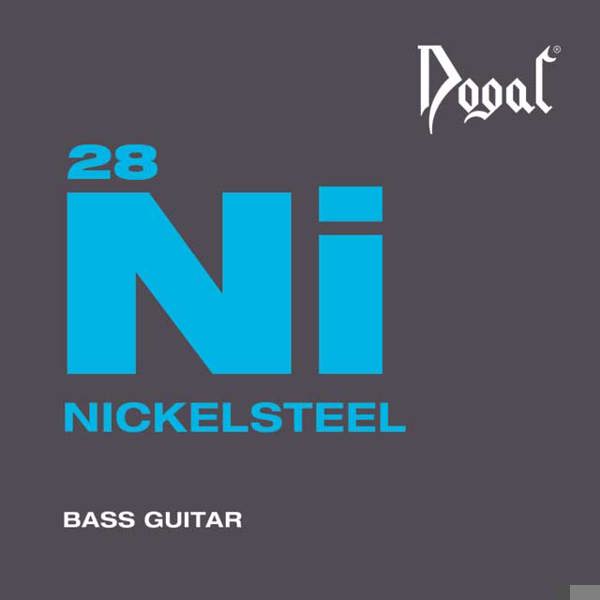 DOGAL NICKELSTEEL BASS is the result of our research into the production of a string with a distinctively bright, full and well-rounded tone.
These strings, exclusively hand-made with a Nickel winding on an hexagonal core section, will suit every kind of musical genre (from dance band to heavy metal) thanks to their easy set up after initial tuning.
CUSTOM SETS AVAILABLE UPON REQUEST.

Dear user, on 34" scale basses with strings on the bridge choose 34" scale, on basses with string-through body choose 35" scale.
RW160070

RE-D Bass Guitar string NYSTEEL 070

RW160060

RE-D Bass Guitar string NYSTEEL 060

RW160050

SOL -G Bass Guitar string NYSTEEL 050

RW160045

SOL -G Bass Guitar string NYSTEEL 045

RW160040

SOL -G Bass Guitar string NYSTEEL 040

RW160090

LA-A Bass Guitar string NYSTEEL 090

RW160085

LA-A Bass Guitar NYSTEEL 085

RW160080

LA-A Bass Guitar string NYSTEEL 080

RW160075

LA-A Bass Guitar string NYSTEEL 075

RW160065

RE-D Bass Guitar string NYSTEEL 065

RW160130

SI-B Bass Guitar string NYSTEEL 130

RW160110

MI-E Bass Guitar string NYSTEEL 110

RW160105

MI-E Bass Guitar string NYSTEEL 105

RW160100

MI-E Bass Guitar string NYSTEEL 100

RW160095

MI-E Bass Guitar NYSTEEL 095

RW160E

Set for Bass Guitar NYSTEEL 050 070 090 110

RW1606032

Set (6 strings) 032 045 065 080 100 130

RW160A

Set 040 060 075 095

RW160B

Set 040 060 080 100

RW160C

Set 045 065 085 105

RW160C5045

Set (5 strings) 045 065 085 105 130

RW160D

Set 045 065 080 100

RW160022

RW160022 FA-F 022 Nickelsteel

RW160026

RW160026 FA-F 026

RW160B5040

5 strings Set 040 060 080 100 125

RW160D5045

5 strings set 045 065 080 100 125

RW160A5040

5 strings set 040 060 075 095 120
Size Chart

Note

Diameter

Tension

E

0.0100

16.220

B

0.0100

16.220

G

0.0100

16.220

D

0.0100

16.220

A

0.0100

16.220

E

0.0100

16.220