Dear Customer, Dogal Strings closes for the summer holidays.
All orders effected from July 30th will be managed and shipped at our reopening (after August 24th 2020).
We wish you all a nice summer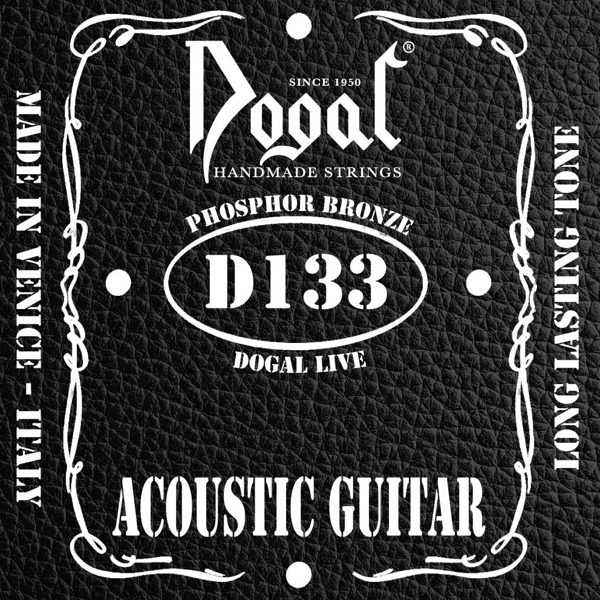 These strings are realized with a good quality of hexagonal steel. They are wrapped up by hand with a special phpsphorbronze alloy. They are packaged in recycling envelopes realized with recycling paper made with sea-weed from the lagoon of Venice. The six strings are in the same envelope and they are differentiated for the different colour of the ball.
Material
PhoshphoreBronze
D133

Set 009 011 021 026c 037c 045c Phosphorbronze

D133009

String 009 Steel-plain

D133010

String 010 Steel-plain

D133011

String 011 Steel-plain

D133012

String 012 Steel-plain

D133013

String 013 Steel-plain

D133014

String 014 Steel-plain

D133016

String 016 Steel-plain

D133017

String 017 Steel-plain

D133021

String 021 Steel-plain

D133022

String 022 PhosphorbronzeWound

D133023

String 023 Phosphorbronze Wound

D133024

String 024 Phosphorbronze Wound

D133026

String 026 Phosphorbronze Wound

D133030

String 030 Phosphorbronze Wound

D133032

String 032 Phosphorbronze Wound

D133037

String 037 Phosphorbronze Wound

D133039

String 039 Phosphorbronze Wound

D133042

String 042 Phosphorbronze Wound

D133045

String 045 Phosphorbronze Wound

D133047

String 047 Phosphorbronze Wound

D133052

String 052 Phosphorbronze Wound

D133A

Set 010 014 023c 030c 039c 047c Phosphorbronze

D133B

Set 011 015 023c 030c 040c 050c Phosphorbronze

D133C

Set 012 016 023c 032c 042c 052c Phosphorbronze

D133D

Set 013 017 026c 035c 045c 056c Phosphorbronze
Size Chart

Note

Diameter

Tension

E

0.0100

16.220

B

0.0100

16.220

G

0.0100

16.220

D

0.0100

16.220

A

0.0100

16.220

E

0.0100

16.220