Dear Customer, Dogal Strings closes for the summer holidays.
All orders effected from July 30th will be managed and shipped at our reopening (after August 24th 2020).
We wish you all a nice summer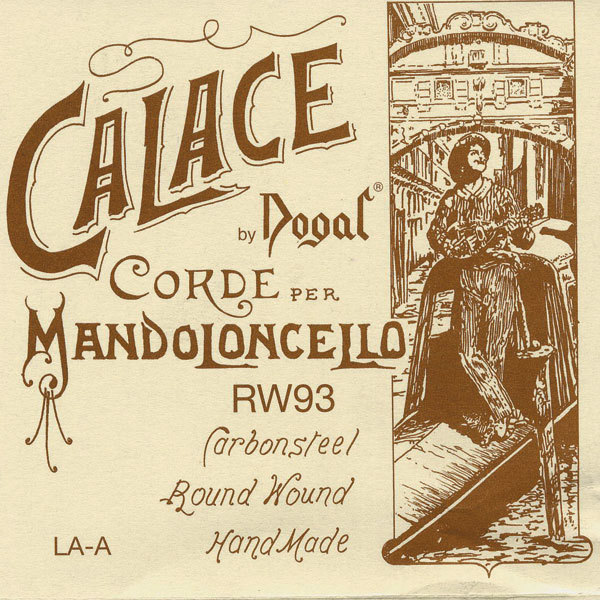 Nowadays the CALACE CARBONSTEEL line is one of the most advanced products for tone, colour and power in harmonic strings.Besides being recommended to mandolin soloists, we advise all the plectrum-ensembles to use all the sets which have been made with the same material.The right choice of string tension is also important for the instrument's structure itself, by obtaining best sound quality results without unnecessarily stressing the top plate.
RW938MWF

DO Mand.cello anima intrecciata (confez. da 2 corde).

RW937MWF

SOL Mand.cello anima intrecciata (confez. da 2 corde).

RW936MWM

DO-C mandoloncello anima intrecciata (confez. da 2 corde).

RW936MWFS

DO Mand.cello anima intrecciata (confez. da 2 corde).

RW936MWF

DO mandoloncello anima intrecciata (confez. da 2 corde).

RW935MWM

SOL mandoloncello anima intrecciata (confez. da 2 corde).

RW935MWF

SOL mandoloncello anima intrecciata (confez. da 2 corde).

RW935MWFS

SOL Mand.cello anima intrecciata (confez. da 2 corde)

RW93

Set Carbonsteel Round Wound

RW932

RE-D Carbonsteel Wound

RW933

SOL-G Carbonsteel Wound

RW934

DO-C Carbonsteel Wound

RW93A

Set Carbonsteel (10 strings)

RW93A1F

MI-E Steel Wound diapason cm. 60

RW93A2

LA-A Carbonsteel Wound

RW93A3

RE-D Carbonsteel Wound

RW93A4

SOL-G Carbonsteel Wound

RW93A5

DO-C Carbonsteel Wound

RW93AMW

RW93AMW Set with G and C with Multiwire core (10 strings)

RW93MW

RW93MW Set with G and C with Multiwire core (8 strings)
Size Chart

Note

Diameter

Tension

E

0.0100

16.220

B

0.0100

16.220

G

0.0100

16.220

D

0.0100

16.220

A

0.0100

16.220

E

0.0100

16.220